Hebden Royd C.E. (VA)
Primary & Nursery School
Church Lane, Hebden Bridge, HX7 6DS
Headteacher: Robert Paton
Tel. No: 01422 842821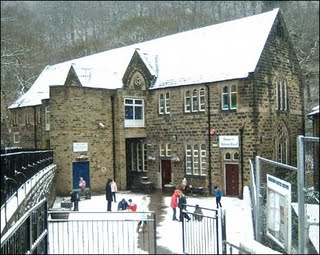 Hebden Royd C.E. (VA) Primary & Nursery School is a co-educational Church of England Primary School for day pupils where the beliefs and practices of the Church of England are fundamental to the life of the school. There are currently 7 classes in the school including a Nursery / Reception Early Years Unit.
The school was built in 1871 with a second storey added in the 1980's. It was modernised inside and a playground added in 1967 and the Nursery was extended in 1997.
There are a number of initiatives that link the school with the community, one of the most important being the ties with St James' Church. Children, staff and parents regularly join together during the year, especially at Christmas, Easter and Harvest, to celebrate acts of worship in a creative and enjoyable way.
We support various charitable organisations throughout the year, including sponsorship for a particular child in Cambodia through World Vision.
We endeavour to maintain a wide range of extra curricular activities throughout the year including a choir, football, netball, gardening, art and running. In addition periodic sessions are run by members of the Community.
Everyone is most welcome to come and visit school and we are always grateful for support in any form; time, skills and talents.