8th October at 10:30 am - an invitation to our 190th anniversary. The Bishop of Huddersfield, Deputy Lieutenant of West Yorkshire, Mayor and Mayoress of Calderdale and Mayor and Mayoress of Hebden Royd Town Council and a number of ex-vicars are coming to help us celebrate. The history of the church and the school will be on display during October so do call in on another day if you are busy on 8th.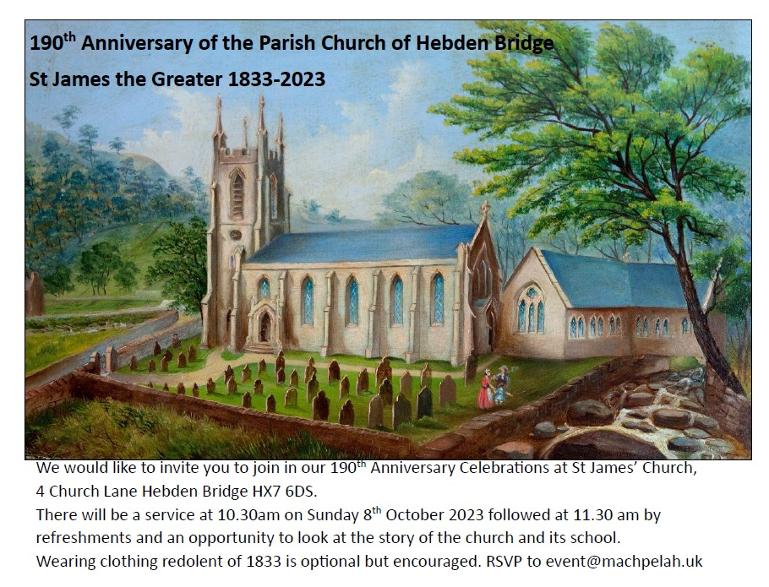 You are invited to attend the Licensing and Installation Service on 26th October at 7:30pm for our new Priest in Charge, Reverend Ruthi Gibbons.
This service will be at St Thomas, Heptonstall
2023 #StainedGlassSummer at St James the Great
If you are a Victorian Stained Glass groupie, then our church is a must to visit. A folder is available in the church to take round as you view each window.
St James the Great
Church Lane, Hebden Bridge, West Yorkshire, HX7 6DS
serving the communities of
Hebden Bridge, Charlestown, Old Town, Pecket Well and the surrounding areas.
Together with St Thomas the Apostle, Heptonstall we form the
United Benefice of Hebden Bridge and Heptonstall
in the Diocese of Leeds.
Warm Space and Place of Welcome
Tuesdays 10 am to 1 pm
Thanks to a Hebden Royd Town Council grant, and Wellsprings Together, we offer a warm space and place of welcome coffee morning in our St. John's Room. Jigsaws, games, books, crafts and a large box of toys are available and plenty of tea/coffee with biscuits and cakes. Foodshare items are also free to take away. See details on Diary page and photos on Community Links page.
Service Times
Sunday - usually at 9.15 am
ALL WELCOME
WE WELCOME EVERYONE TO SERVICES AT ST JAMES. IF YOU NEED SPECIAL ASSISTANCE OR HELP PLEASE LET US KNOW IN ADVANCE IF YOU CAN.CHURCH IS ABOUT BECOMING A LOVING COMMUNITY, AS THE THREE PERSONS OF GOD ARE A LOVING COMMUNITY. WE ASPIRE TO GIVE A WELCOME TO EVERYONE, OF ANY AGE, STATUS, GENDER, SEXUAL IDENTITY OR BELIEF.
The church is open most days (see diary page for details).
There is a fine collection of 1870s Heaton Butler Bayne stained glass windows to see.
St James's church continues to be a collection point for items for the food bank.
Friends of St James' Church - whilst we do not have an officially set up 'friends of' group here at St James (yet) we are always glad to hear from people who feel an attachment to St James even if they don't come to church. We are always delighted when people volunteer to help, with the grounds, and also with some of the jobs in church.
St James' Church is a Grade 2 listed building and as such, it is a bit of a challenge to maintain. Most people are not aware that the church does not receive any money from the government and relies almost completely on the generosity and goodwill of local people to keep them in good condition. Work done is subject to the rules and regulations regarding listed buildings and has to use (expensive) conservation materials. Rarely, we can apply for grants to part fund repairs and maintenance though there is no guarantee that we will be given one.

The PCC and Vicar are therefore always grateful for assistance through one off or continuous donations or legacies. As from 9th January 2023 we have an interregnum because we said farewell to Rev Karen Marshall on 8th January and it can take several months before a new person in appointed. During this interregnum, we will not be having a service on Wednesday mornings, but morning prayers on Mondays and Wednesdays at 9 am will continue. The regular activities with Hebden Royd School are also temporarily suspended.
If there is someone or something you would like us pray for, please let us know. We have a group of people who will be very happy to pray your concerns and requests. If you prefer it to remain confidential please let us know in your message. The temporary contact whilst we have no vicar is event(at)machpelah.uk
[Replace the (at) with @]
The Collection:
The church council are really grateful to everyone who is continuing with their giving through bank standing order. If you would like to begin making your offering via standing order, or want to make a one off donation please let us know.
Staying in touch:
We are looking at ways for us all to keep in touch with each other using social media, our facebook group and facebook live videos. Further details are on the 'a church near you' website, and on the church websites: stthomasheptonstall.com and stjameshebdenbridge.com
The temporary contact whilst we have no vicar is event(at)machpelah.uk
[Replace the (at) with @] Your email will be forwarded to the most appropriate member of the PCC.
For queries relating to weddings, funerals and baptisms and prayer requests our temporary contact whilst we have no vicar is event(at)machpelah.uk or by letter using the address at the top of the page.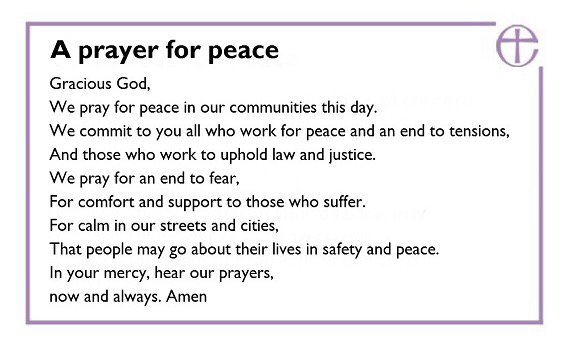 Vision
Encourage each other as we grow in our faith whilst also seeking to share the Good News with the wider communities we serve.
Welcome
Welcome to our website which is constantly being reviewed and developed.
Please have a look around and come back regularly to see new updates.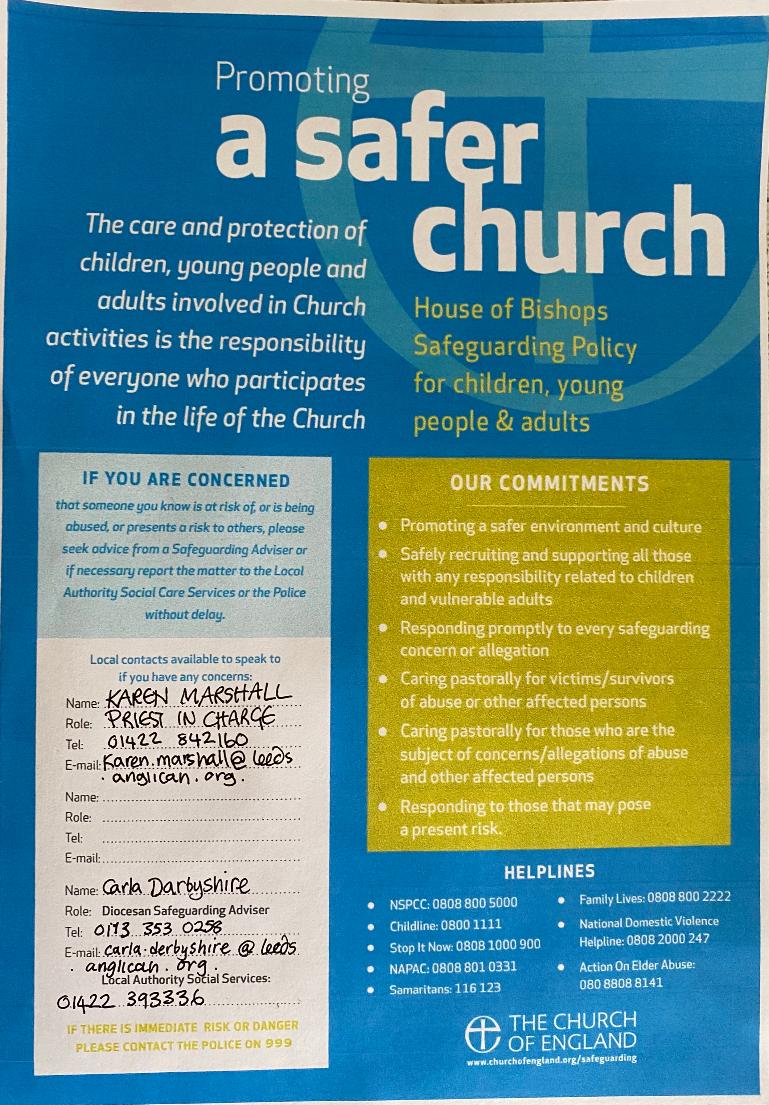 St James Church is committed to safeguarding and promoting the welfare of both children and adults and expects all staff and volunteers to share this commitment. For further information, or to see the policies please use the link below.