8th October at 10:30 am - an invitation to our 190th anniversary. The Bishop of Huddersfield, Deputy Lieutenant of West Yorkshire, Mayor and Mayoress of Calderdale and Mayor and Mayoress of Hebden Royd Town Council are coming to help us celebrate. The history of the church and the school will be on display during October so do call in on another day if you are busy on 8th.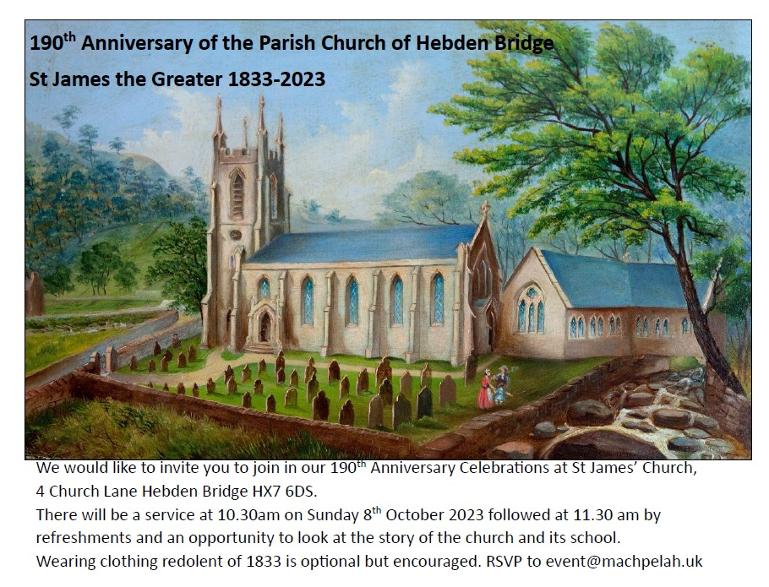 You are invited to attend the Licensing and Installation Service on 26th October at 7:30pm for our new Priest in Charge, Reverend Ruthi Gibbons.
This service will be at St Thomas, Heptonstall
Coffee Morning
There is normally a coffee morning the second Saturday of every month at St James starting at 11:00 and finishing about 1pm. Light lunches available. See diary page.
Knit and Natter
Most Thursday afternoons 2-4pm - doesn't have to be knitting.
Sacred Singing
We also host a Sacred Singing group on Thursday afternoons. They use the church or the upstairs room from 2-3pm.
Past events
2023 #StainedGlassSummer at St James the Great
If you are a Victorian Stained Glass groupie, then our church is a must to visit. See the history page for details about the windows.


Visitors from Rochdale Town Hall
On 12th June we welcomed volunteers from Rochdale Town Hall and showed them around the church and in particular telling them about our set of stained glass windows made by Heaton Butler and Bayne, the same company who was also making the Rochdale Town Hall glass around the same period.
Coronation Weekend 6th-8th May
6th-8th May
St James' celebrated the Coronation of King Charles III. The church was decorated, including Harvey's Coronation-themed flower arrangements and plenty of bunting put up by the Community Payback Team. There was an exhibition about Prince Charles' visits to Hebden Bridge and how Hebden Bridge celebrated past Coronations. The church was open every day for people to call in. On the Coronation

Day, several people rang

St James' one bell just before the Coronation began and when the Westminster Abbey bells rang at the end. More came to see the exhibition including one couple who were married in St James' 34 years ago.

About 40 people dropped in for

The Big Lunch on Sunday. Vicky's cake soon vanished.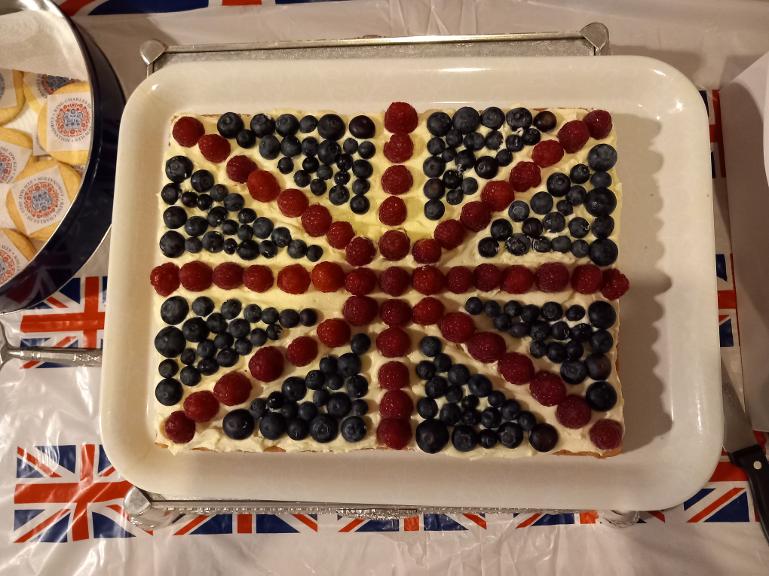 26th May 3 pm to 5 pm at St James' Church – Platinum Jubilee Craft Workshop
Although there will be a few simple activities available on the 5th June, accompanied children are invited to drop-in to this workshop and make their own memorial book to complete during the Queen's Platinum Jubilee Weekend. If participants wish, the completed booklets may be displayed in the exhibition 5th-12th June.
As well as 70 years being our head of state, the Queen also has the role of head of the Church of England.

With thanks to Hebden Royd Town Council for providing a Queen's Platinum Jubilee grant, St James invites the local community of Mytholm to a free celebration over the four-day extended Bank Holiday weekend to be held at St. James Church, Church Lane, Hebden Bridge HX7 6DS
2nd to 5th June, anytime between 11 am and 3 pm - Exhibition about Mytholm during the last 70 years, charting the changes in the life of the local community since 1952 and changes during that time in areas such as fashions, toys, games, food, drinks, sweets, weddings, memories. Hebden Royd School will also be marking their postponed 150th anniversary with an exhibition of the history of the school.
5th June between 12 pm and 2 pm - A pot-luck picnic where local people bring their own picnic to eat on their own blanket or chairs either at the church or on the nearby field. For those who may not be able to provide their own picnic, there will be some "Food Share" items available. In the event of wet weather, St John's room at the church will be used.
There will be a professionally-made cake in the shape of a 2D Coronation Crown on display until about 1 pm. On arrival at the church, people will be asked to collect a ticket for a free slice of either sponge cake, fruit cake or vegan cake in exchange for their ticket after 1 pm. The colour theme for the Platinum Jubilee is purple, which the church will be using for decorations and flowers, together with the union flag. We encourage you to wear something purple or dress in 1952 fashions.
If you have any questions or would be willing to offer help please contact