Diary & Notices
Warm Space, Place of Welcome and Foodshare
At St James' Church, Church Lane, Hebden Bridge, HX7 6DS, Tuesdays 10 am to 1 pm
Thanks to a Hebden Royd Town Council grant, we can offer a warm space and place of welcome coffee morning in our St. John's Room. Jigsaws, games, books, crafts and a large box of toys are available and plenty of tea/coffee with biscuits and cakes. Foodshare items are also free to take away.
Foodshare
Calder Community Cares working with St James' Church: Each day we get donated food from the local Co-ops that would normally go to landfill. It is usually bread/rolls and some pastries but can also include vegetables, fruit and other items. These are free and should be eaten the same day. If anyone would like some, please call in at the church. Monday to Friday 2.30pm – 3.30pm. Saturday and Sunday around 10.30 am.
Coffee Morning
Our usual coffee mornings including a light lunch are on the second Saturday of the month from 11 am to 1 pm. 2023 dates:10th June, 8th July, 12th August, 9th September, 14th October, 11th November, 9th December.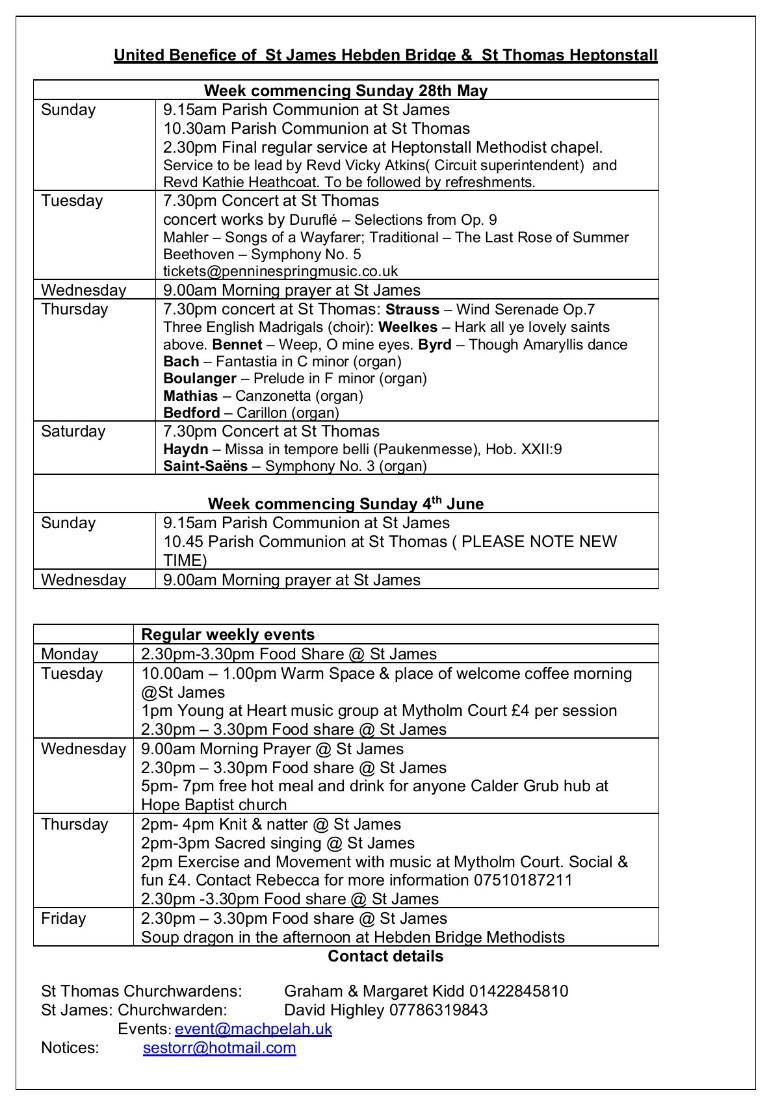 For Your Prayers
Pray for those who are persecuted for speaking out against injustice.
Pray for an end to the exploitation of the Brazilian Amazon and its peoples.
Pray for fair conditions and gender justice for garment works in Bangladesh.
Pray for the people of Malawi, especially those who have been impacted by Cyclone Freddy the longest-lasting tropical cyclone on record (lasting 34 days), which hit Malawi and Mozambique. This cyclone is the equivalent of a full North Atlantic hurricane season. Malawi experienced a year's worth of rain during the 4-week cyclone. Over 508,000 people have been displaced and hundreds have lost their lives.
Three months on from the earthquakes, continue to pray for the people of Turkey and Syria.
The ministry of St James and St Thomas, and for all people who are part of the ministry of the church, lay and ordained. For the PCCs of the churches
For Rev Johnathan Oldfield, for all who have used the pebble pool in their prayers and for those recovering from illness, and those who have lost loved ones recently.
The PCCs of St Thomas's and St James's have jointly agreed the Parish Profile and Parish Brochure which set out details of our churches and what we are looking for in our new priest. The next stage will be a meeting with the bishop and/or archdeacon to discuss the practicalities of the appointment process. We hope that this meeting will be arranged in the near future. If you have any questions about the recruitment process please speak to one of the Parish Representatives or to a member of the PCC.
Parish representatives:
St James: Carol Denneny & David Highley
St Thomas: Alison Marsh & Paul Mackin
UPDATE
The section 12 meeting with both PCCs, the Bishop, Archdeacon and Area Dean will be held on 31st May 7.30pm at St James
St James are collecting jam jars, any size, preferably with lids. Please drop off at St James.
Shirley Taylor is undertaking 3 one mile swims to raise much needed funds for St Thomas. The first two have already been successfully completed: the final swim is on 11th June at Lake Windermere.The just giving page is Crowdfunding to Help Keep Saint Thomas's Church going in Heptonstall. on JustGiving or there is a sponsorship form in the post office. Please support Shirley.
As a temporary measure, from Sunday 4th June, the Parish Communion at St Thomas's will begin at 10.45am. This arrangement will allow a little extra time for those clergy who are kindly celebrating at both churches to travel between Hebden Bridge and Heptonstall. The PCC hopes that this temporary arrangement will cause minimal inconvenience to those who attend the service at St Thomas
URGENT
Help is urgently needed at St Thomas to serve refreshments at the concerts on Tuesday 30th May, Thursday 1st June and Saturday 3rd June. Please conatct Margaret Kidd if you can help.