Warm Space and Place of Welcome
Every Tuesdays 10 am to 1 pm in the St John's Room at St James'.
Jigsaws, games, books, crafts and a large box of toys are available and plenty of tea/coffee with biscuits and cakes. Foodshare items are also free to take away.
It is not just the children who like the box of toys, but other prefer to sit and chat.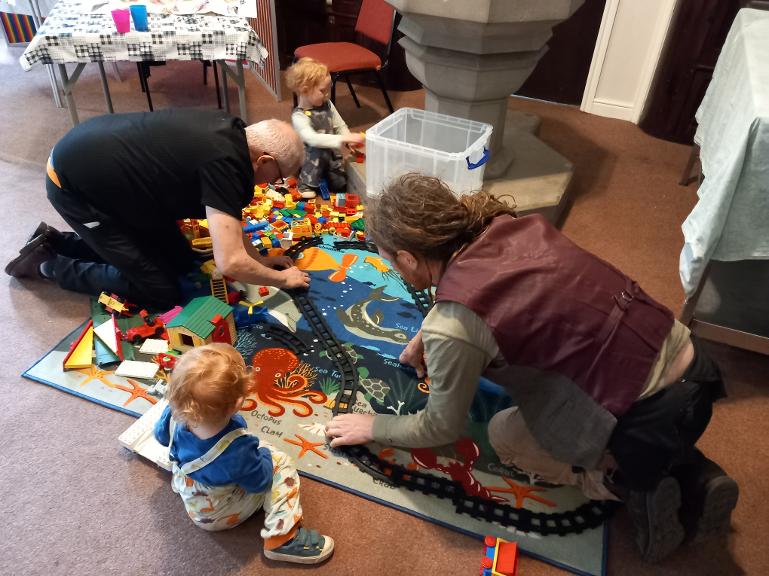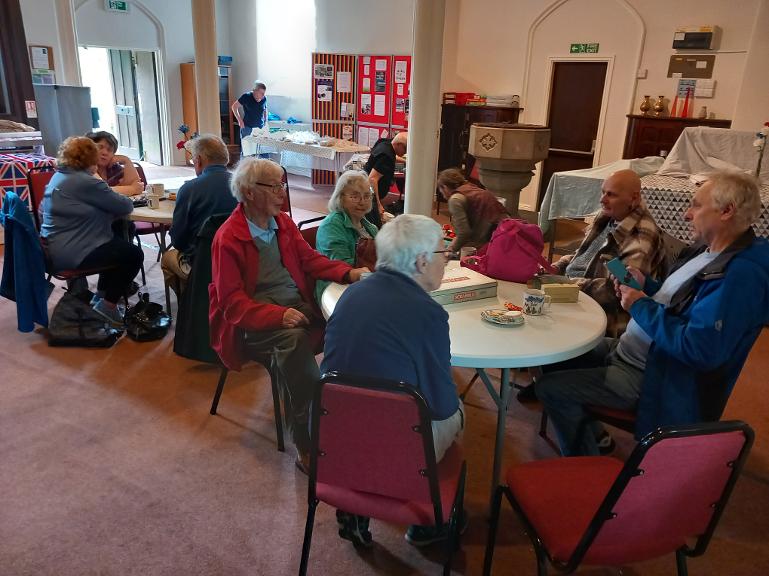 With the help of Calder Community Cares, we run a food share at St James'. It is different from a food bank in that you do not have to be in receipt of benefits or to have been referred. With the rising cost of living especially energy bills, more and more people in the community may wish to use Food Share. Food such as bread, pastries, cakes, occasionally fruit and vegetables past their best by date is normally thrown away by supermarkets at the end of the day. Volunteers collect the food and it is taken to the church daily where people can then drop by and help themselves to the "potluck" free food.
We are open Monday to Friday 2.30 pm to 3.30 pm, Tuesday Morning 10.30 am to 1 pm, Saturday 11 am to 12 pm and Sunday for about half an hour after the morning service. Any food remaining goes to the nearby community pub, The Fox and Goose, for collection there.
If you need regular help, contact Calder Community Cares go to their website and register with them.
If you wish to volunteer to help St James' with the Saturday and Sunday morning collections or the 10 pm collections on Monday, Wednesday and Friday nights at Mytholmroyd and Hebden Bridge, please email event(at)machpelah.uk for more information.
[Replace the (at) with @ ]
There are a number of activities in our area close to the church.
Sacred Music Group at St James: The music group meets each Thursday at 2.00 pm for an hour followed by refreshments.
Everyone welcome. St James', Church Lane, Hebden Bridge, HX7 6DS.
Young at Heart Music Group: Meets Tuesday at 1.00pm at Mytholm Court, Church Lane, Hebden Bridge HX7 6DT. Cost £4.00 per session. Church Lane, Hebden Bridge HX7 6DT
Seated Exercise is for Everyone: Meets Thursday, @ 10.30am at Mytholm Court, Church Lane, Hebden Bridge HX7 6DT, cost £4.00 per session. As we age, we need to move the body to remain healthy and independent for longer. Come and join us for a fun and social way to move the body to music. All ages and abilities welcome. Call Rebecca for more details 07510187211.
Every Saturday we are the hub for a small Community Payback Team. As well as helping us to look after the church, they sometimes carry out tasks in other areas of the community.
Upper Room (accessible) available to hire