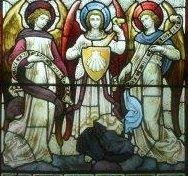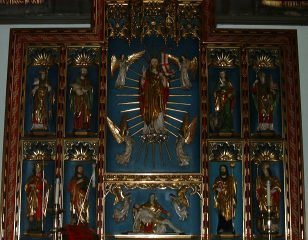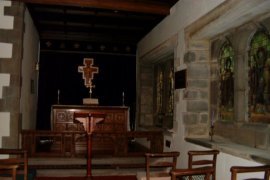 Upper Room Window
Sta Depicting three Angels bearing
The stained Glass windows were designed, made and installed by Heaton, Butler and Bayne, an English firm who produced stained glass windows from 1862-1953. The windows show strong design and colours and the company became one of the leading firms of Gothic Revival Stained glass manufacturers. They produced glass for windows of churches in Britain and the USA and for churches throughout what was then the British Empire. Examples of their work can be found in Tewksbury Abbey, Westminster Abbey, St Matthews Cathedral in Laramie, Wyoming, and also in teh Cathedral of the Holy Trinity Quebec, Canada.
***********************************
The Reredos
A memorial of the centenary
of the Parish Church
Designed by the late
F. C. Eden R.F.I.B.A.
Figures careved by
Alfonso Noflaner
of Ortisie, Northeren Italy
***********************************
The Sowden Chapel
Dedicated in memory of George Sowden
who continued his brothers friendship
with the Bronte family
'175'
by
Peter Coles
A celebration of
the 175th Anniversary of
St James the Great
Hebden Bridge
on the
5th October 2008