St James the Great
Church Lane, Hebden Bridge, West Yorkshire, HX7 6DS
serving the communities of
Hebden Bridge, Charlestown, Old Town, Pecket Well and the surrounding areas.
Together with St Thomas the Apostle, Heptonstall we form the
United Benefice of Hebden Bridge and Heptonstall
in the Diocese of Leeds.
CORONAVIRUS UPDATE
The Archbishop's of Canterbury and York have advised us that all public worship should cease until further notice. This is to protect the public from potential risk of infection from being gathered in a group. Consequently there will be no services at either St James or St Thomas until we are advised that it is safe to resume.
We are currently exploring other options for virtual gathering...and sharing worship and prayer. Please check back tomorrow for further information. We are still available for telephone queries and conversations, and if you know of someone who is vulnerable who might need assistance please let us know and we will do what we can to help.
St James's church continues to be a collection point for items for the food bank and will be open Wednesday morning if you would like to drop things off. St Thomas's continues to be open as usual for private prayer. Please consider other people's safety whilst in the churches, cleaning your hands on entering and leaving.
Although we are hoping to be able to live stream services we haven't managed to achieve it yet There is however, a service below which you are welcome to join in with.
Sunday Worship
An Order of Service for
Mothering Sunday 22nd March 2020
Although circumstances decree that we cannot be together physically, we have an opportunity through modern technology to worship together. Its all a bit of a new experience so please bear with us... as we learn a new skill.
First of all prepare yourself a space – if you can, find a place of quiet, light a candle as a focus. You might have a cross, statue or icon, or picture of something else to focus on. You can place that there too. The service is designed so that you can say the words in bold if you wish...although I can't hear you, this is shared worship.
Prepare yourself – breathe in and out slowly a few times to centre your thoughts. Be aware of your in breath and of the breath of God who is our source, our hope and our ultimate destination.
Opening Prayer
God of love,
passionate and strong,
tender and careful:
watch over us and hold us
all the days of our life;
through Jesus Christ our Lord. Amen.
Readings:
A Reading from the Book of Exodus (Chapter 2: 2-10)
Now a man from the house of Levi went and married a Levite woman. The woman conceived and bore a son; and when she saw that he was a fine baby, she hid him for three months. When she could hide him no longer she got a papyrus basket for him, and plastered it with bitumen and pitch; she put the child in it and placed it among the reeds on the bank of the river. His sister stood at a distance, to see what would happen to him.
The daughter of Pharaoh came down to bathe at the river, while her attendants walked beside the river. She saw the basket among the reeds and sent her maid to bring it. When she opened it, she saw the child. He was crying, and she took pity on him. 'This must be one of the Hebrews' children,' she said. Then his sister said to Pharaoh's daughter, 'Shall I go and get you a nurse from the Hebrew women to nurse the child for you?' Pharaoh's daughter said to her, 'Yes.' So the girl went and called the child's mother. Pharaoh's daughter said to her, 'Take this child and nurse it for me, and I will give you your wages.' So the woman took the child and nursed it. When the child grew up, she brought him to Pharaoh's daughter, and she took him as her son. She named him Moses, 'because', she said, 'I drew him out of the water.'
Psalm 23
A Psalm of David.
The Lord is my shepherd, I shall not want.
He makes me lie down in green pastures;
he leads me beside still waters;
he restores my soul.
He leads me in right paths
for his name's sake.
Even though I walk through the darkest valley,
I fear no evil;
for you are with me;
your rod and your staff—
they comfort me.
You prepare a table before me
in the presence of my enemies;
you anoint my head with oil;
my cup overflows.
Surely goodness and mercy shall follow me
all the days of my life,
and I shall dwell in the house of the Lord
my whole life long.
A Reading from the Gospel according to John 19: 25-27
And that is what the soldiers did.
Meanwhile, standing near the cross of Jesus were his mother, and his mother's sister, Mary the wife of Clopas, and Mary Magdalene. When Jesus saw his mother and the disciple whom he loved standing beside her, he said to his mother, 'Woman, here is your son.' Then he said to the disciple, 'Here is your mother.' And from that hour the disciple took her into his own home.
Reflection:
Its interesting how the times we find ourselves living in can influence what we notice in a familiar bible story. The story of Moses is well known and well loved. The phrase that jumped out at me when I read it was 'his sister stood at a distance' - something we are all familiar with at the moment. Albeit for very different reasons. The story of the baby in the basket appeals to that in us which is about nurture and care, and what we think of us as motherly love. Of course not all people growing up experience this kind of love, and thankfully most of us who are mothers never have to make these kind of difficult decisions but something deep in our psyche connects with this, and similar stories are found in other cultures and other times.. Essentially what we find Moses's mother doing is looking at the bigger picture: if she wants her son to survive the challenges in society at the time, she needs to take a risk, and let him go. If we follow the story further what we find is that God finds a way of using a difficult situation to bring about an important and good outcome. Moses grew up to become one of the most significant figures for what we call the Abrahamic faiths, Judaism, Islam, and Christianity. I sometimes wonder how Moses' mother coped when she handed him back to be brought up in the court of the Pharaoh. The other thing I often wonder is what was Moses real name? Or at least the name that he was given by his mother. We are told that he was renamed when he was adopted by the Pharaoh's daughter. I tend to think that God knows and loves me as me, Karen, (which is why I've never changed my name but just learned to live with it), but actually God loves us at the most profound level possible. When it comes to names, God tells Moses 'I am who I am'. There is something powerful and safe and also a bit scary about that idea. Human beings have an unfortunate tendency to create God in our own image when in fact it's meant to be the other way round.
In the gospel reading we hear about another adoption, this time of an older person. We don't tend to think about adopting older people or even young adults... not formally anyway, although it does happen informally in many cultures and societies. Adoption is about creating family bonds, and a sense of identity, and securing safety in terms of human need. Jesus invited the beloved disciple to take responsibility for his mother who must have been about 46 years old at the time.
At a persons baptism we sometimes talk about being adopted into God's family.. I found a book the other day entitled "Peter's Baptism' which was given to my youngest daughter by the vicar on the day of her baptism. At the time I thought it was a strange idea... aren't we all children of God anyway... and of course we are.. but there is something else going on here... which is about helping us recognise what we hold in common - those values of love for God and love for one another. Values that help us to find life's meaning in Love. I'm not great at learning bible verses but one I find comes to mind a lot is 'God is love and those who live in love, live in God, and God lives in them.' It's another way of describing what it means for us to be made in God's image, and its wonderful.
Of course we all have different practical experiences of love.. and our experiences aren't always great as I said earlier .. which is why Mothering Sunday is a difficult day for many. One thing we can say though is, truly loving another person is almost never about doing what we want but about what is right for the beloved. We need to learn to think about love as God thinks about it... to do love in the way that God does it..to love in a way that recognises that we are all part of one another at some profound level
Today is about celebrating that love...the love of God for each one of us, and the love that God invites us to have for each other.. the kind of love that meant that a little boy gave up his loaves and fishes so that everyone could eat, the kind of love that is causing neighbours to look out for each other today, the kind of love that inspires people to continue to to care for others at cost to themselves....that kind of love... that kind we see in Jesus whose love knows no boundaries, and includes everyone.
So let's give thanks for those who love
and ask for inspiration as we continue on in our journey in life and in love.. for Jesus sake. Amen
Prayers:
God of hope and consolation,
You love us and call us to love one another as if the other person is ourself, help us to experience the fullness of your love so that we may be drawn to life in you.
When we are anxious help us to find security in you. Help us to see the hope that has been revealed to us through your Son.
When we are struggling, inspire us with your generous love.
When we feel distant and set apart, help us to remember that you are always with us,
When times are hard, inspire us to offer all that we are for the sake of others.
Although we are living in ways that are physically separate help us to remember that we are part of something that is bigger than ourselves and our immediate families. Help us always to be mindful of the needs of others and to care for them as we would like to be cared for.
Bless all who are working to bring comfort, healing and wellbeing to those around the world who are suffering. Encourage them to keep going when things are tough, help them to find hope in you when they feel despairing.
We pray by name for: (please name the concerns that you wish to pray about).
The Lord's Prayer
Trusting in the compassion of God, as our Saviour taught us so we pray:
Our Father in heaven,
hallowed be your name,
your kingdom come,
your will be done,
on earth as in heaven.
Give us today our daily bread.
Forgive us our sins
as we forgive those who sin against us.
Lead us not into temptation
but deliver us from evil.
For the kingdom, the power,
and the glory are yours
now and for ever.
Amen.
Post Communion Prayer for Second Sunday of Lent
Almighty God,
you see that we have no power of ourselves to help ourselves:
keep us both outwardly in our bodies,
and inwardly in our souls;
that we may be defended from all adversities
which may happen to the body
and from all evil thoughts
which may assault and hurt the soul;
through Jesus Christ our Lord. Amen.
The Grace:
The grace of our Lord Jesus Christ,
and the love of God
and the fellowship of the Holy Spirit
be with us all, now and forever. Amen.
The Collection:
The church council are really grateful to everyone who is continuing with their giving through bank standing order. If you would like to begin making your offering via standing order, or want to make a one off donation please let us know.
Staying in touch:
We are looking at ways for us all to keep in touch with each other using social media, our facebook group and facebook live videos. Further details are on the 'a church near you' website, and on the church websites: stthomasheptonstall.com And stjameshebdenbridge.com
If there is someone or something you would like us pray for, please let the wardens or Rev Karen know. Details of how to get in touch are on the website. We have a group of people who will be very happy to pray your concerns and requests. If you prefer it to remain confidential please let us know in your message.
Prayers are said daily for the whole community of Heptonstall and Hebden Bridge at approximately 4pm if you wish to join us 'in spirit' by lighting a candle and joining in at home or wherever you are.
For queries relating to weddings, funerals and baptisms and prayer requests please ring the Vicar (014224 72641)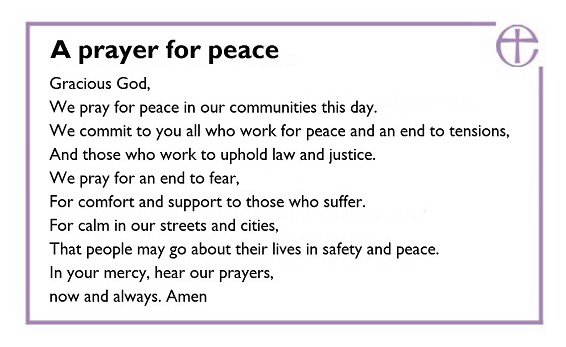 Vision
Encourage each other as we grow in our faith whilst also seeking to share the Good News with the wider communities we serve.
Welcome
Welcome to our website which is constantly being reviewed and developed.
Please have a look around and come back regularly to see new updates.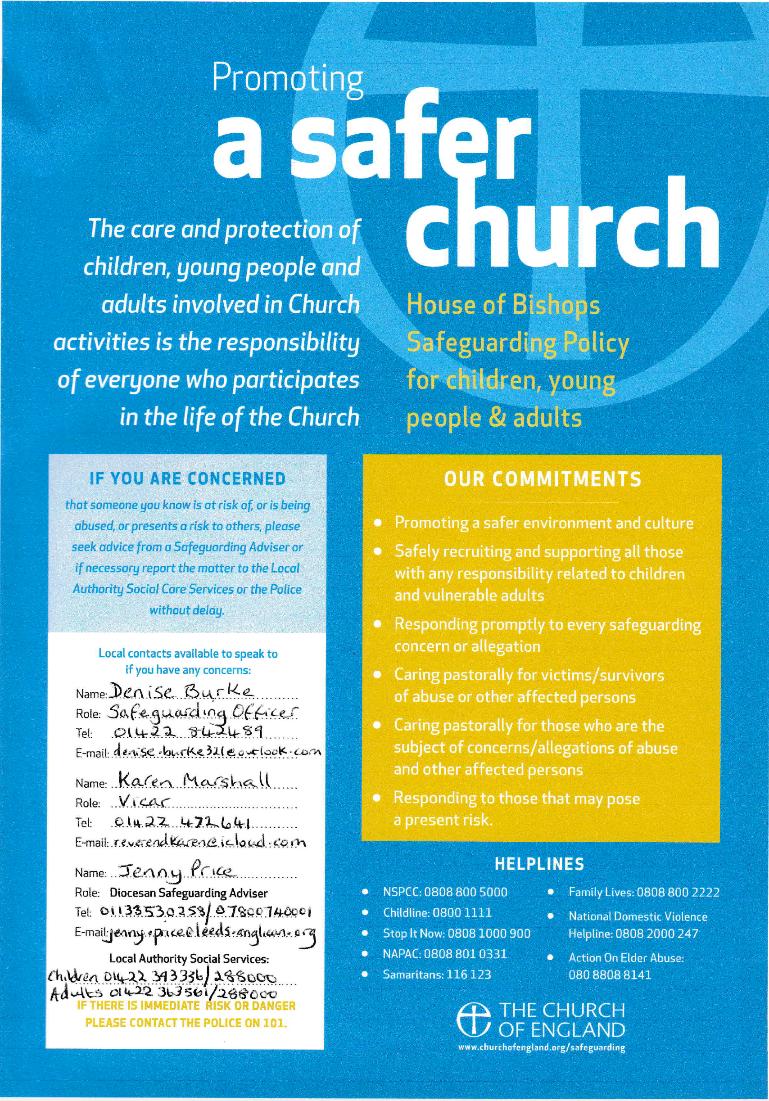 St James Church is committed to safeguarding and promoting the welfare of both children and adults and expects all staff and volunteers to share this commitment. For further information, or to see the policies please use the link below.